Solution for Windows Mobile reminders that won't dismiss
Back in February I posted about a problem I was having with my XV6700 which was preventing me from dismissing most reminders. In March I found a solution to the problem which did not require hard resetting the device. I used the device for all of March and April and never had a single problem so I feel comfortable posting about it here as a possible solution for others having the same problem.
The solution I found was to disable automatic time synchronization with the cellular network. Apparently every time the PDA is powered up it syncs the time with the network and that process causes an occasional hiccup if a reminder is what woke up the device rather than the user pressing the power button. Disabling the time sync feature has completely eliminated the problem I was having where I could not dismiss reminders and the reminder sound continued to play over and over until I soft reset.
Here is how to disable the time sync feature:
Tap Start, Settings, and tap the "Phone" icon on the Personal tab.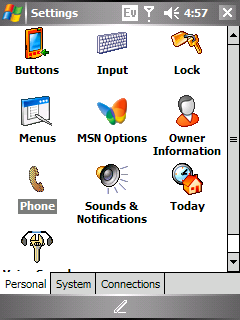 Tap the Services tab and scroll down in the list to "Time Synchronization." Select that item then tap the "Get Settings…" button.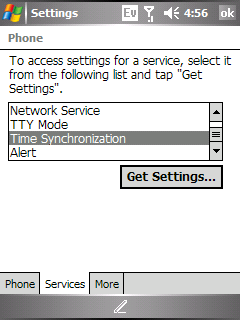 Uncheck the box labeled "Time synchronize with mobile network automatically." Note that you can always come back to this dialog any time and manually sync by tapping the "Update Now" button.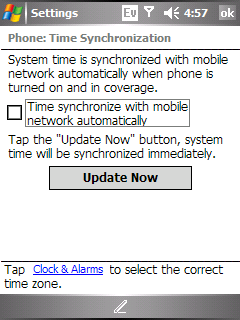 After doing this, my reminder problems disappeared completely and my XV6700 has been problem-free for over two months! I don't know if a similar fix is available for other models. Please report back if you have any luck with models other than the XV6700.
---