The Pocket Internet Explorer Start Page was a little project built for the old Windows Mobile version of Pocket Internet Explorer way back in 2004. It was designed as a replacement for the default Pocket IE start page in order to provide a quick way to access frequently-visited mobile sites. It would still work on modern versions, but probably is of very little use these days. Almost all of the web sites that linked to the project no longer exist and based on Google search terms, people who landed here weren't actually looking for this.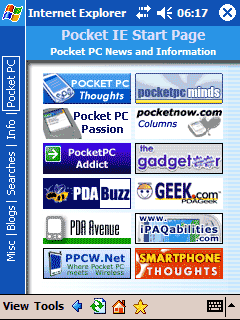 Download
I'm making the download available for historical purposes only. Documentation is in the _ReadMe folder inside the zip file.
Pocket Internet Explorer Start Page v3.02a (229 KB zip file)
License
This work is licensed under a Creative Commons Attribution-NonCommercial-ShareAlike 4.0 International License.